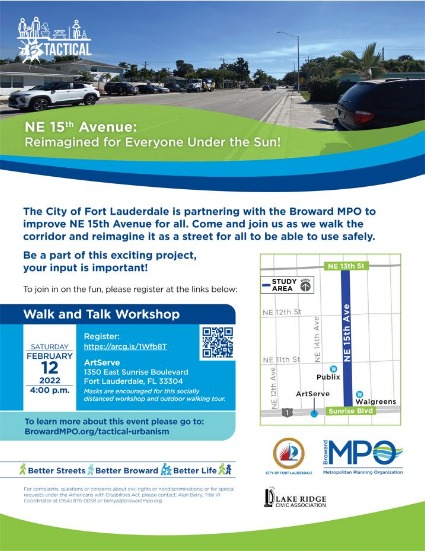 Btactical is coming to Fort Lauderdale! The City of Fort Lauderdale is partnering with the Broward MPO to test pedestrian and bicycle infrastructure improvements along NE 15th Avenue between NE 11th Street and NE 13th Street. This is the second pilot project of the Btactical program and it is planned to be installed in May 2022. This project is prioritized in the City of Fort Lauderdale's Neighborhood Mobility Masterplan (2015-2025) for the Lake Ridge community and received the highest score of this year's BTactical call for projects.
The NE 15th Avenue project scope will be presented to the community in the upcoming weeks. The team is preparing an interactive public meeting to collect feedback from residents, business owners, transportation agencies, and other stakeholders.
Join us as we walk the corridor and reimagine it as a street for all to use safely. On Saturday, February 12, at 4:00 p.m., we will host a Walk & Talk Workshop at the ArtServe Gallery.
At the workshop, we will discuss the project ideas and request feedback from the community regarding the Art component of the project. All community members are welcome to participate in this unique opportunity to help the City transform and reimage NE 15th Avenue into a better street for everyone. Masks are encouraged for this socially distanced workshop and outdoor walking tour.
The Tactical Urbanism Program, BTactical, is a Broward Complete Streets Initiative effort to quickly implement multimodal safety improvements on the Broward Roadway Network, following the recommendations of the set of priority action items identified in the Bicycle & Pedestrian Safety Action Plan and Complete Streets Master Plan.
Be part of the transformation! To attend the Walk & Talk visit https://arcg.is/1Wfb8T to register.
Visit https://arcg.is/1WT4LL0 to learn more about the Pilot project in the City of Fort Lauderdale and upcoming workshops. Volunteering opportunities are available for all ages, check it out!
For more information on the Broward MPO's Tactical Urbanism, BTactical, program, visit: https://www.browardmpo.org/tactical-urbanism
For more information on the Broward MPO Complete Streets Initiative, visit: https://www.browardmpo.org/complete-streets-overview