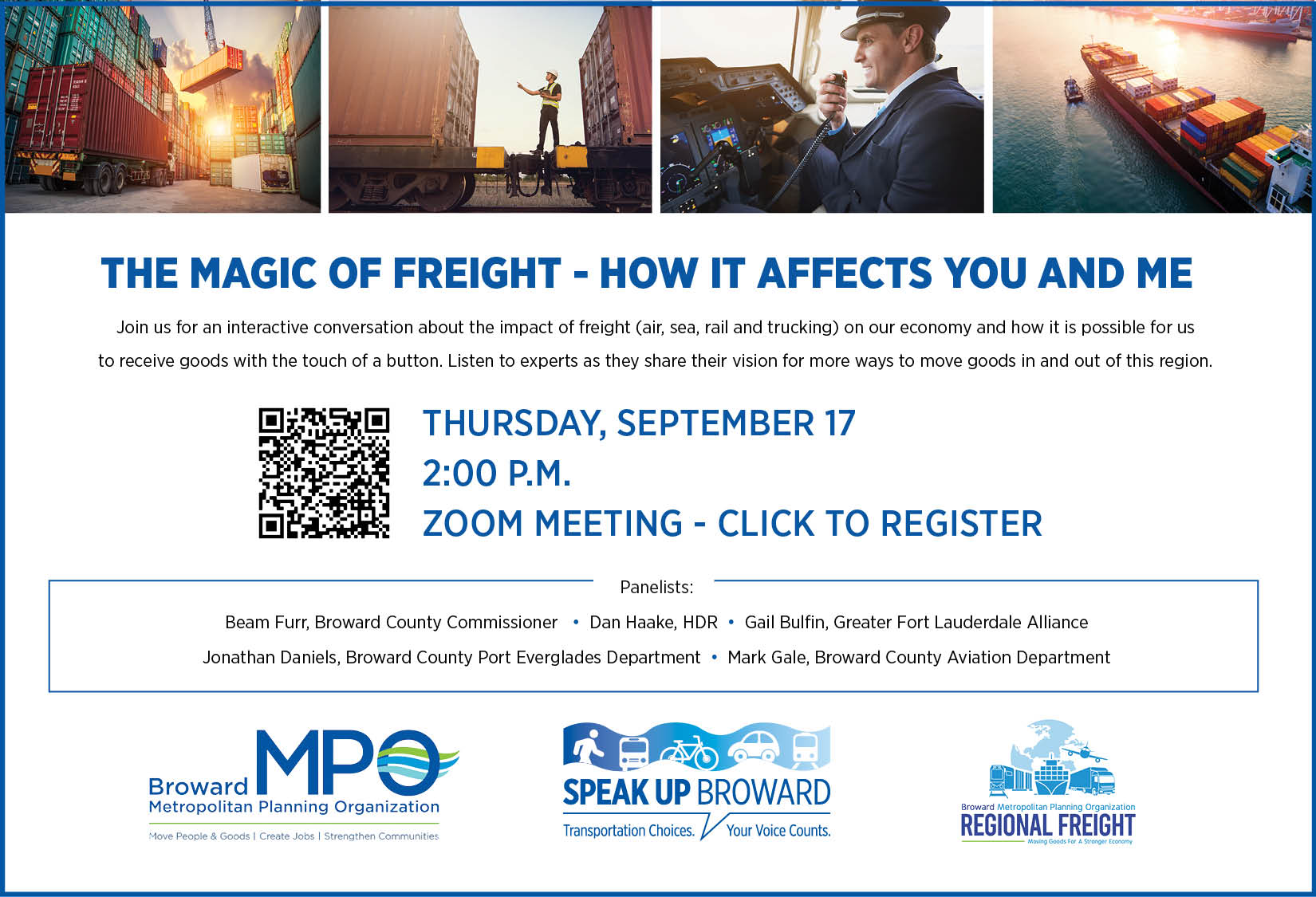 On Thursday, September 17 we hosted the third installment of the Speak Up Broward Online series. The Magic of Freight and How it Affects You and Me was the topic for this month's interactive conversation. The panelist, Broward County Commissioner Beam Furr, Greater Fort Lauderdale Alliance's Gail Bulfin, Broward County Port Everglades Department's Jonathan Daniels, Broward County Aviation Department's Mark Gale, and moderator Dan Haake of HDR dissected the impact of freight, how it strengthens our economy, and introduced efficient ways to move goods in and out of our region.
The Speak Up Broward online event kicked off our new freight initiative, the Magic of Freight. Oftentimes we take freight for granted without much thought of how our lives are heavily dependent upon it. Items we consume daily ranging from the food we eat to the clothes we wear come to us by air, sea, truck, and rail.
John Daniels pointed out, "Our region is unique. We have a transportation mesh with five modes of transportation layered upon each other. We have marine, air, rail, and the often-forgotten mode: pipeline. Pipeline is an important form of freight because it is the transport of energy. We also have a very, very short channel for getting in and out of here. Few places in the world have such a great integrated transportation network"
Port Everglades is a self-supporting enterprise that does not rely on local tax dollars for operations or capital and it is a powerhouse! Its total economic activity is nearly $34 billion, and it impacts 231,579 and counting jobs in Florida. Unfortunately, like the rest of the world, Port Everglades was significantly impacted by COVID-19 as roughly 40% of its activity came from cruise ships. This change forced the port to become more efficient and take advantage of the downturn in preparation to come out stronger.
"We worked to be flexible with the airport and the seaports. We made concessions and had waivers when needed. To make sure we are up and running when the time comes," Beam Furr, Broward County Commissioner said. "Above all, the Broward Commission has seen the importance of diversification through all this."
Gail Bulfin retorted, "for the first time, people started thinking about how they will get their goods. When they could not get them, they started thinking through the systems that are in place for goods delivery."
Bulfin's statement rings to the near panic we witnessed this past spring and it is the foundation of our Magic of Freight campaign, educating the public on how we move goods. Different modes of freight will transport commodities through sea vessels, air, or rail-based on time-sensitivity. As we look forward, we will begin to see COVID's impact on various industries and how they adjust to meet consumer expectations.
Missed the live stream of the Magic of Freight Speak Up Broward Online Event? Watch the recording on our Facebook channel here: https://www.facebook.com/SpeakUpBroward/videos/343871183613025
Want to be involved in the next online event? Register for the next event on our calendar: https://www.browardmpo.org/calendar/event/1015-save-the-date-speak-up-broward-online-events-core-products