The Broward MPO is leading a study to improve access to the educational facilities amongst four municipalities (see map below): Pompano Beach, Margate, Coconut Creek and Coral Springs. Our consultant will analyze the various transit services in the area including Broward County Transit (BCT), local community buses and Tri-Rail Shuttles. We will also examine how school schedules (primary, secondary and post secondary) interact with the current transit service.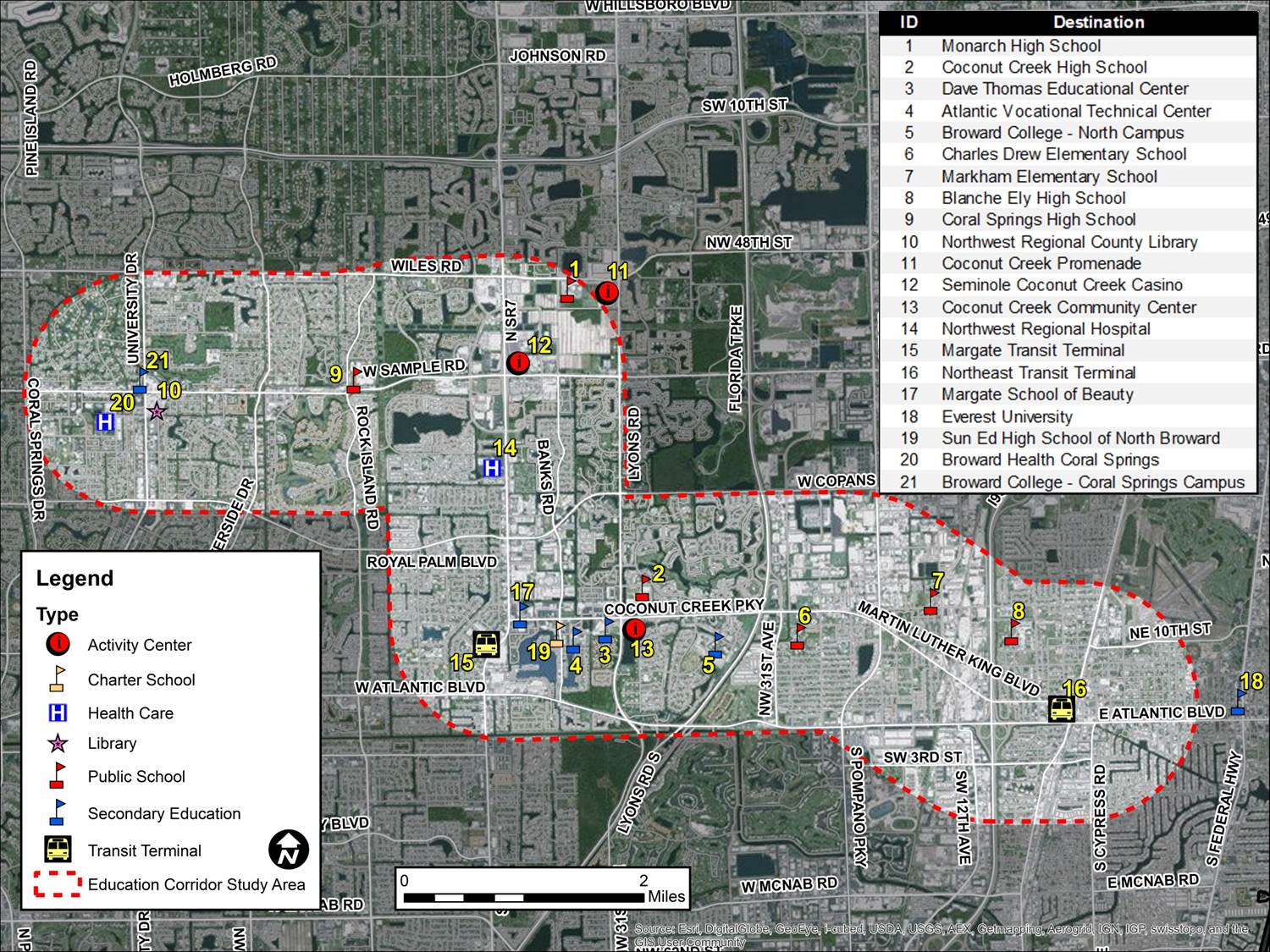 Our team will use creative strategies to enhance or redesign the existing system into one that provides the most convenient public transportation (with fewest transfers) between the educational facilities, local business community and neighboring residential communities. The goal is to develop a transit and shuttle/circulator concept plan that will focus on improvements that can be implemented in the near- (1-5 years) and mid-term (6-10 years) horizons.
Resources and Documents
Tech Memos
Collection of data on the four municipalities including previous planning studies,data include previous planning studies, existing transit characteristics, existing demographics and future projections, existing socio-economic indicators, and existing / future land uses. Tech Memo 1 has been broken into smaller pieces to reduce download time.
Presents evaluation criteria and performance measures to evaluate enhancements to the community bus system. These performance measures will be used to analyze the proposed routes and service so that an alternative service plan can be developed and ultimately recommended for implementation.
Outlines the various alignment options that have been developed, along with their associated capital and operations and maintenance costs. Stop spacing and vehicle capacity options will also be discussed in relation to their effects on the overall service plan and costs for a potential new alignment for the proposed circulator.
For More Information
Please contact Paul Calvaresi at calvaresip@browardmpo.org or (954) 876-0037 to learn more about the Broward MPO and what they are working on in your community.