FM#: 441954-1-12-01
---
Fact Sheet
Click on the image below to download the Arterial Connectivity along I-595 Fact Sheet

Study Overview
The Broward Metropolitan Organization (MPO) and Florida Department of Transportation (FDOT) have partnered to conduct a planning study to address connectivity for all modes and congestion along the eight (8) north-south roadways that cross Interstate 595 (I-595) and State Road 84 (SR 84) in central Broward County.
Issues to be addressed include:
Connectivity, safety and mobility for vehicular traffic including transit;
Connectivity, safety and mobility for bicycle and pedestrian traffic including the New River Greenway; and
Reducing congestion along the north-south study roadways which serve as a gateway to and from the communities adjacent to the I-595 corridor.

Study At-A-Glance
As shown in the study area map, the study roadways include the eight (8) north-south roadways listed below, along with SR 84 (eastbound and westbound). The study limits along each of the north-south roadways extends at least one mile north, and one mile south of SR 84 and I-595. The study limits along SR 84 extend from one mile west of NW/SW 136th Avenue to at least one mile east of SR 7/US 441.

Study Roadways:
NW/SW 136th Avenue
Flamingo Road
Hiatus Road
Nob Hill Road
Pine Island Road
University Drive
Davie Road
SR 7/US 441
Study Purpose
The purpose of this initiative is to identify and define transportation problems, and develop effective solutions to fulfill the goal of providing better connectivity for all modes and to provide congestion relief for travel along the north-south study roadways and their access points with I-595 and SR 84. All types of improvement strategies are being considered including land use and policy strategies; geometric modifications to roadways; pedestrian, bicycle, greenway, and transit infrastructure improvements; and technology and traffic signal improvements.

Current Status of Study
The project is currently in the planning phase. During this phase, the study team is coordinating with stakeholders to identify transportation needs and develop improvement concepts. Existing and future conditions data is being collected and analyzed, and various strategies will be identified. Once feasible improvements and strategies are identified, cost estimates will be completed, and funding opportunities identified for transportation infrastructure improvements. Ideally, feasible projects will then advance to a Project Development and Environment (PD&E) Study or a Design Project phase and ultimately towards construction.
The Arterial Connectivity Study began in October 2019 and is expected to be completed in the fall of 2021.
Survey
Thank you to everyone who participated in the online public survey conducted in July and August 2020. The comments you shared are helping guide the development of improvements and strategies to address the concerns. Please stay tuned for recommended transportation improvements in the coming months.
A snapshot of the online survey webpage is below.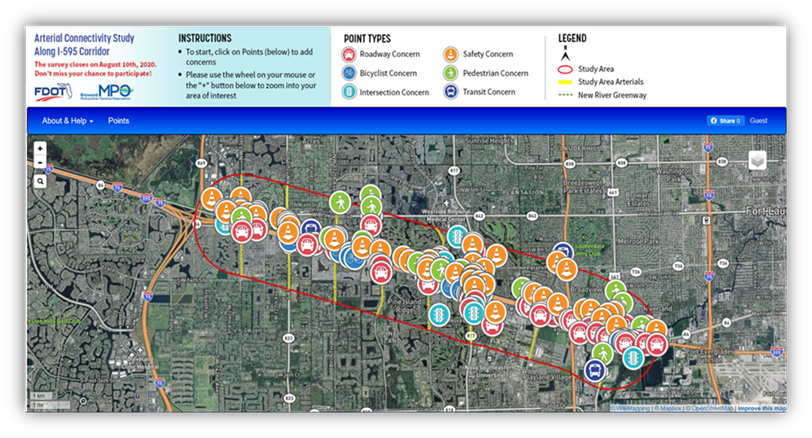 The study team is extremely grateful to all our partners for sharing the survey with the public! Thank you, Broward County, Town of Davie, City of Fort. Lauderdale, City of Plantation, City of Sunrise, FDOT, and Broward MPO staff for helping distribute the survey! With your help, the survey link was shared over 270,000 times using various outreach methods, and we received tremendous participation from the public. The survey was posted from July 1, 2020 to August 10, 2020, and we received over 1,000 survey website visits, and 272 concerns and 214 written comments were provided via the survey.
Below is a bar chart summarizing results from the online survey. This bar chart shows the percentage (%) of transportation needs or concerns that were submitted by type.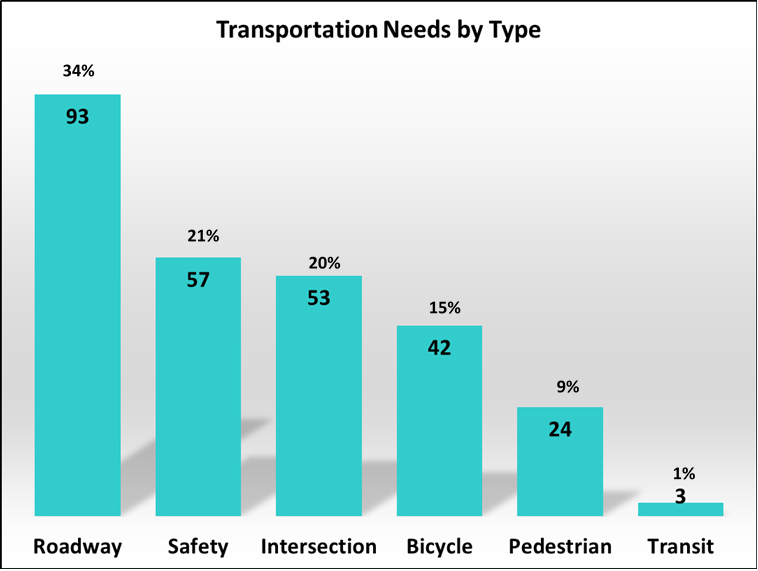 Continue to monitor this website for more information.
Project Documents / Publications

Please click the link below to review the project documents.
FDOT's Arterial Connectivity Study Along I-595 Page
---

Contact Information
For more information on this study, please contact:
Mr. Chon Wong
Project Manager
Florida Department of Transportation (FDOT)
Telephone: (954) 777-4659
Email: chon.wong@dot.state.fl.us
Consultant: RS&H
For More Information
Please contact Paul Flavien at flavienp@browardmpo.org or (954) 876-0045 to learn more about the Broward MPO and what they are working on in your community.