Federal Certification 2023
The MPO has been recertified by the Federal Highway Administration (FHWA) and Federal Transit Administration (FTA)! The certification site visit took place at the MPO on April 11, 2023 where a number of topics were discussed between MPO, FHWA/FTA, and partner agency staff. See below for a list of focus that were used in certification consideration.
Special thanks to all of our participating partners and those who provided feedback online or in person! On August 31, 2023, the Federal Review Team recertified the agency for another four years. For the 2023 Certification Report, please click the image below: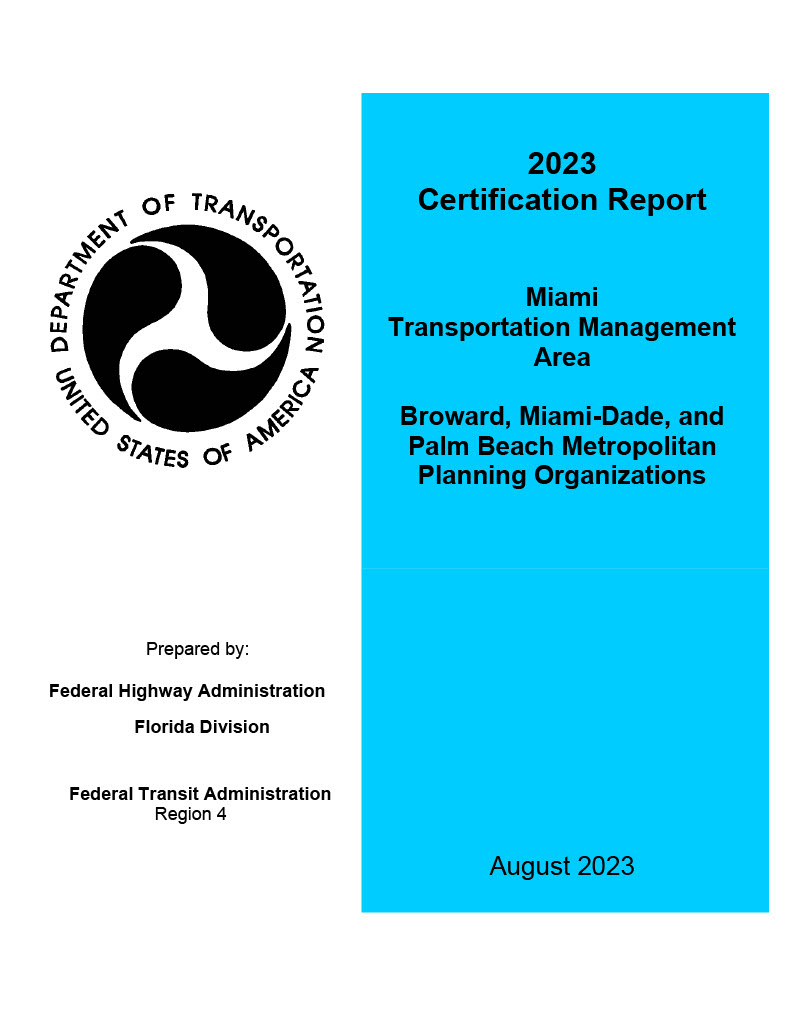 Every four years our partners at the Federal Highway Administration (FHWA) and Federal Transit Administration (FTA) conduct an evaluation of the Broward MPO as part of their Transportation Management Area (TMA) Certification Review of this area. The evaluation includes everything our agency works on from transportation planning to public outreach to the financial health of the agency.
The next TMA Certification Review for the Broward MPO will take place on April 11, 2023. The agenda for the the Review can be found here.
The MPO has also created an electronic version of the Federal agenda with backup material in HTML and PDF format on the Agendas & Minutes page of its website.
Public feedback is an essential part of this review. It's your chance as someone who may live, work, or play in Broward to provide direct input on the transportation planning process.
You have the opportunity to let us know what you think.
Comments can be submitted until May 12, 2023:
FHWA Contact
Carlos A. Gonzalez
Transportation Planning Specialist
3500 Financial Plaza, Suite 400
Tallahassee, FL 32312
carlos.a.gonzalez@dot.gov
For more information, contact Carl Ema at emac@browardmpo.org.
Focus Areas for the Broward MPO 2023 Federal Certification
Linking Planning & NEPA (Environmental Streamlining)
UPWP
Long Range Transportation Plan – Financial Plan/Fiscal Constraint
Past Federal Certifications
Every four years the Federal Highway Administration (FHWA) and the Federal Transit Administration (FTA) conduct a Federal Certification Review of the Broward MPO. The main purpose of the review is to certify that the Broward MPO is satisfactorily meeting the planning requirements as defined in federal laws and regulations. This process also provides FHWA and FTA the opportunity to add value to the Broward MPO's planning process through the sharing of best practices, techniques, and/or technology.
The last review took place on April 8 and 9, 2019.
State Certification
The Florida Department of Transportation (FDOT) District Four conducts a standard annual State Certification Review of the Broward MPO.
For More Information
Please contact Carl Ema at (954) 876-0052 or emac@browardmpo.org to learn more about the Broward MPO and what they are working on in your community.