Speak Up Broward Online Events: Freight
From September 17, 2020 2:00 pm until September 17, 2020 3:00 pm
Posted by Hannah Bourgeois
The Broward Metropolitan Planning Organization (MPO) is embarking on a new, interactive initiative "Speak Up Broward Online Events" to connect with the public during times of social distancing. These events will bring together transportation professionals once a month for an hour-long conversation on a variety of different topics.
Join the Broward MPO for an interactive conversation on the impact of freight (air, sea, rail and trucking) on our economy Thursday, September 17 at 2:00 p.m. Experts will share their insights and visions for the future.
To register visit: https://us02web.zoom.us/webinar/register/9815988887766/WN_8IvB8M4hTjC42nsetOuNjQ
| | | |
| --- | --- | --- |
| Panelist | Agency | Perspective Info |
| Commissioner Beam Furr | Broward County Board of Commissioners | Policy |
| Mark Gale | Broward County Aviation | Freight- Air |
| Gail Bulfin | Greater Fort Lauderdale Alliance | Business/Local Economy |
| Jonathan Daniels | Port Everglades | Freight- Sea |
| Dan Haake | HDR | Moderator |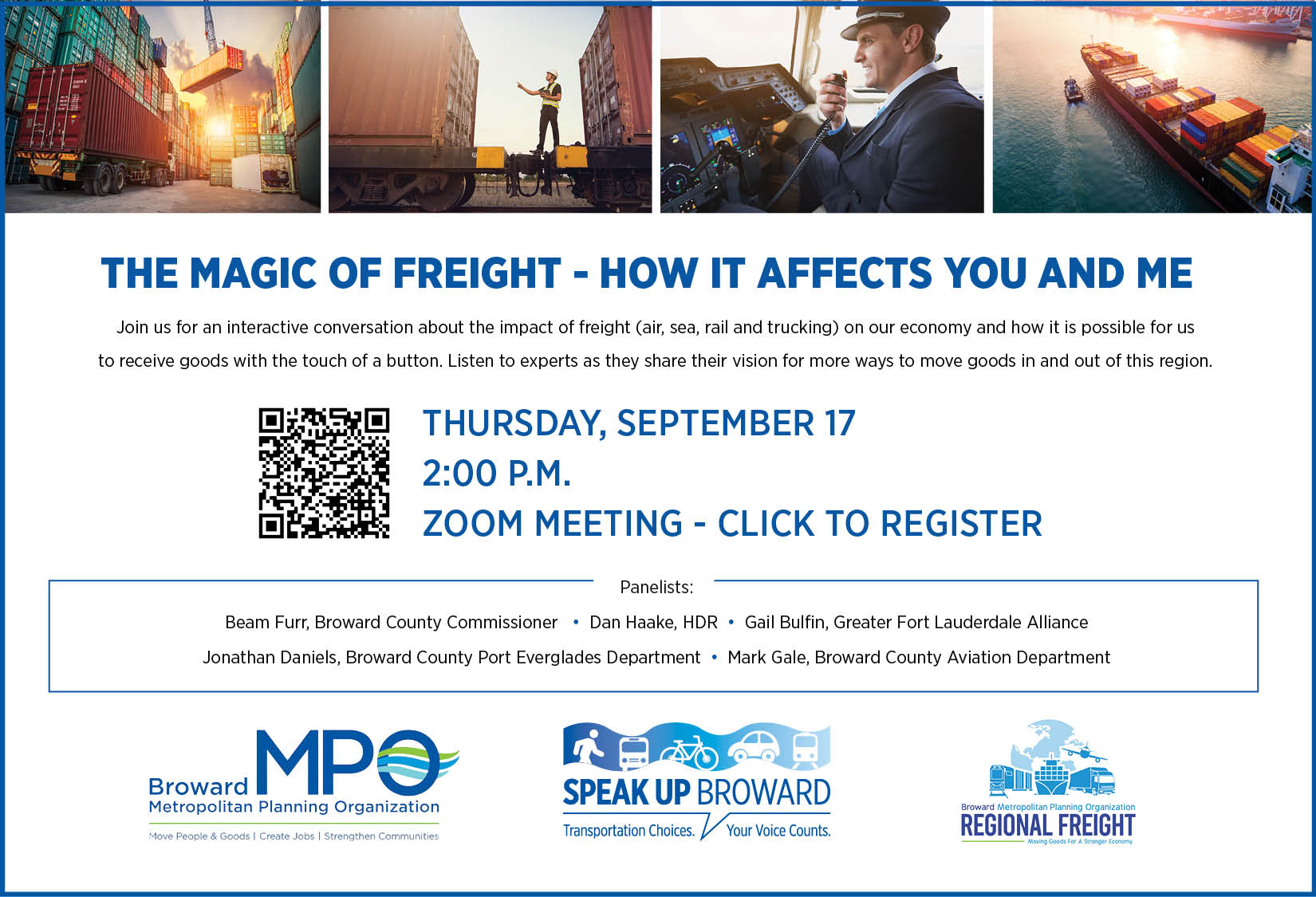 For more information on how the Broward MPO is working with our partners in the region to improve the movement of freight and goods in Southeast Florida, CLICK HERE.
For More Information
Please contact Anthea Thomas at thomasa@browardmpo.org or (954) 876-0034 to learn more about the Broward MPO and what they are working on in your community.