Speak Up Broward Online Events: Climate Change/Resiliency
From July 30, 2020 2:00 pm until July 30, 2020 3:00 pm
Posted by Hannah Bourgeois
The Broward Metropolitan Planning Organization (MPO) is embarking on a new, interactive initiative " Speak UP Broward Online Events" to connect with the public during times of social distancing.
Join the Broward MPO on Thursday, July 30 for another webinar in the series of Speak Up Broward Online events! These events will bring together transportation professionals once a month for an hour-long conversation on a variety of different topics. We're kicking off this exciting series with a panel discussing climate change/resiliency.
To register for the webinar, please visit https://us02web.zoom.us/webinar/register/4615910328746/WN_Lu__6EOGQS2x9kKYgU5QXw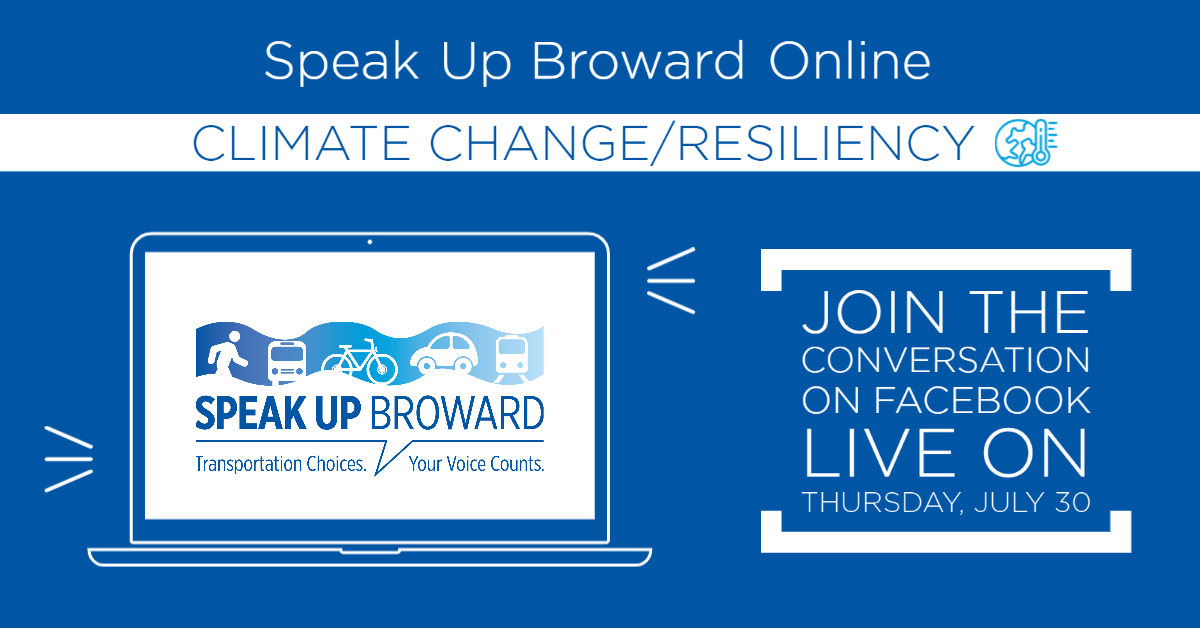 | | | |
| --- | --- | --- |
| Panelist | Agency | Perspective Info |
| James Cromar | Broward MPO | Broward MPO Initiative on planning for climate change/resiliency |
| Dr. Samantha Danchuk | Broward County (Environmental Protection and Growth Management Department) | The science behind climate change/environmental protection and growth management |
| Caryn Gardner-Young | FDOT | Resiliency improvements on State corridors |
| Dr. Maria Illecheva | FIU Metropolitan Center | Population growth effect on climate change |
For More Information
Please contact Anthea Thomas at thomasa@browardmpo.org or (954) 876-0034 to learn more about the Broward MPO and what they are working on in your community.