What is Tactical Urbanism?
Quick, short-term, often low-cost creative projects are the essence of the BTactical program. Quick build projects have become a powerful and adaptable new tool of urban planners, and policymakers seeking to drive lasting improvements in cities.
These interventions are often highly visible and are defined by the following characteristics:
The offering of innovative design solutions for planning challenges, traffic calming, and multimodal streets
Short-term actions, long-term commitment, and realistic expectations
Helps measure the impact of interventions prior to a long-term and permanent project implementation
Pilot projects that are reversible and adjustable according to the needs of the community
Enhanced collaboration and strengthens partner relationships between public, private, and nonprofit sectors
Quick build projects are focused on existing safety, accessibility and connectivity needs and the Broward MPO plans to work with local governments and stakeholders on the implementation of long-term projects that include the feedback from the community.
The Broward MPO team is currently working on identifying a list of projects to prioritize interventions to be implemented in Broward region. The first pilot project is planned to be implemented in 2021. As the planning and programming process moves forward, the Broward MPO Complete Streets team will provide more information about the location, upcoming opportunities to participate in public meetings and volunteering to help build better streets.
Upcoming #Btactical Informational Webinar!
The BTactical team will conduct a webinar on Thursday, November 4, 2021 at 2:30 p.m. to present an introduction to quick build projects. Please attend if you would like more information and have questions for the team on your application. Register here:https://bit.ly/3voYcVu
#BTactical Background

The Tactical Urbanism Program, BTactical, is a Broward Complete Streets Initiative effort to quickly implement multimodal safety improvements on the Broward Roadway Network, following the recommendations of the set of priority action items identified in the Bicycle & Pedestrian Safety Action Plan and Complete Streets Master Plan.
The Broward MPO is committed to improving transportation safety and offering a variety of choices with improved comfort for those who live, work, and play in Broward. This will be accomplished by delivering quick-build projects while also working on comprehensive longer-term street projects to support partner agencies implementing pilot projects that test new ideas, generate public awareness, and support efforts to increase multimodal safety, accessibility, and connectivity.
Quick Build Projects
In February, local governments submitted project ideas for the first pilot project planned to be implemented in 2021. The team has selected NE 3rd Avenue located in the City of Deerfield Beach and is planning to conduct a Walk and Talk workshop on Saturday, June 5, 2021 to present the opportunity to re imagine the corridor with the support of the community!
We are excited to announce that the City of Deerfield Beach, in partnership with the Broward MPO has been selected as a 2021 AARP Community Challenge Grantee! For details on this grant, please CLICK HERE.
NE 3 Ave- City of Deerfield Beach

The proposed project will increase visibility through pedestrian treatments and traffic calming. The project area is within the NE 3rd Avenue corridor in the Tedder Community, which is an undivided major collector road with two southbound and northbound lanes. The corridor is an important route for pedestrians of all ages who regularly walk or bike to different.
We have hosted our first three events with great success!
Check out the proposed quick-build designs below to learn how we are planning to address safety issues and other accessibility concerns identified in the various public workshops and surveys developed to collect feedback from the Community at Tedder neighborhood.
June 5 Walk & Talk In-Person Workshop
Participants met at the Highlands Community Center to walk with Tedder neighborhood residents to experience NE 3rd Avenue and identify ways to improve the street to develop a plan for a Quick-Build pilot project that will increase visibility of pedestrians, cyclist and drivers on the road and provide a safer environment for all.
June 9 Virtual Workshop
Participants who were unable to attend in-person were informed about the timeline of the project and upcoming opportunities to be involved in the implementation process.
August 26 Design Informational Session
On Wednesday, August 26 from 6:00 p.m. - 7:30 p.m., we held an interactive, informational session to discuss design plans for the BTactical project. Check out the photo album for all the fun!
November 6 BTactical Public Meeting
On Saturday, November 6 from 9:30 a.m. - 11:30 a.m. at the Highlands Community Center, we will hold a BTactical public meeting to present the final designs and discuss volunteering opportunities for our future painting sessions. Visit the link to register in advance: https://browardmpo.org/calendar/event/1188-btactical-public-workshop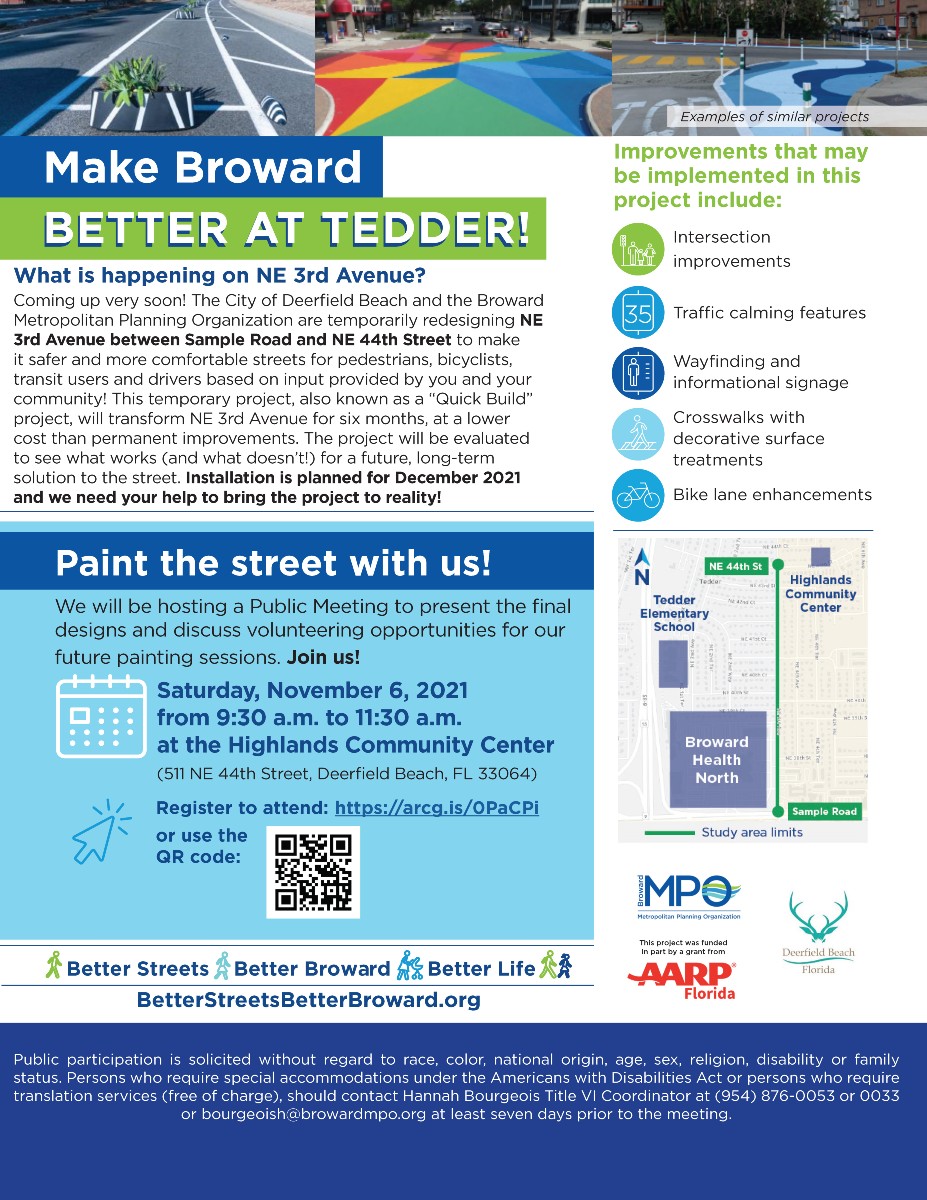 December 11
Ribboncutting event! Stay tuned for more info.
Did you know you can provide your feedback virtually? Check out the Online Survey to let us know your thoughts and the Interactive StoryMap to explore the project.
As the planning and programming process moves forward, the Broward MPO Complete Streets team will provide more information about the location, upcoming opportunities to participate in public meetings and volunteering to help build better streets.
Tactical Urbanism Resources
To learn more about Tactical Urbanism and how you can implement Quick-Build projects in your community, visit the below resources to help get you started. Stay tuned as we will be providing more resources in the coming months as Quick-Build projects are implemented across Broward.
Stay tuned for more information about the quick-build projects coming up by following us on social!
For More Information
Please contact Stephanie Garcia at (954) 876-0065 or garcias@browardmpo.org to learn more about the Broward MPO and what they are working on in your community.