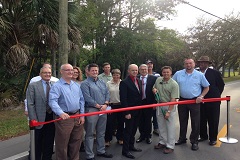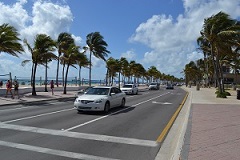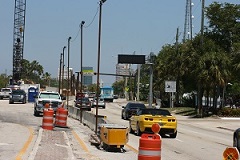 Welcome to the Broward MPO's Transportation Project Updates webpage. The purpose of this page is to provide information and updates on transportation projects happening in Broward and throughout Southeast Florida. Click on the blue links below to take you to that page.
FDOT District 4 Construction (Broward)
This page contains information on transportation projects under construction by the Florida Department of Transportation (FDOT) in Broward. Projects listed include: 95 Express construction, State Road 7 widening in Hollywood, I-75 Express Lanes, A1A from Oakland Park to Flamingo Rd, Sunset Strip Complete Streets improvements, Hollywood Boulevard Complete Streets improvements, and more.
http://www.d4fdot.com/bcfdot/index.asp
Interactive Transportation Improvement Program (TIP)
The Broward MPO's Transportation Improvement Program (TIP) is a comprehensive list of federal, state and locally funded transportation projects. All modes of transportation are included in the TIP. This includes transit, roadways, bridges, aviation, seaport, rail and commuter rail, bicycle facilities, pedestrian provisions, and enhancement projects like landscaping and greenways. The Florida Department of Transportation's Work Program is used to produce the Broward MPO's five-year TIP.
http://broward.dtstiptool.com/
Broward County Highway Construction and Engineering Division
The link above is a map with updates on "Major Capital Improvement Projects" located throughout Broward County. Projects listed include the Andrews Avenue Bridge Rehabilitation Project, NW 27th Avenue Safe Streets improvements, Davie Road Extension improvements, Wiles Road widening, and more.
http://bcgis.maps.arcgis.com/apps/View/index.html?appid=0a40f97856174b00bea140e7cc43470d
Brightline Expansion to Orlando
Brightline service is being expanded to Orlando, with the station construction nearly complete. Phase II construction to Orlando is expected to take approximately three years, laying more than 170 miles of new track. Stay tuned for updates: https://www.gobrightline.com/orlando.
https://gobrightline.com/routes-stations
Florida's Turnpike
Current Turnpike projects in Broward include the Sunrise Boulevard Interchange Modification as well as routine maintenance and repair.
http://www.floridasturnpike.com/construction.html
Complete Streets
A complete street is a street where the entire right of way is planned, designed, and operated for all modes of transportation and all users regardless of age or ability. Pedestrians, bicyclists, transit riders, and motorists of all ages and abilities must be able to safely move along and across a complete street. Complete streets make it easy to cross the street, walk to shops, catch the bus, and bike to work. Click here to download our fact sheet.
The Wilton Drive Lane Elimination Roadway Reconstruction project is expected to be completed by October 31, 2019. This project will include one lane in each direction, bike lanes, and wider sidewalks.
Andrews Avenue Ribbon Cutting was held on September 17, 2019 to celebrate the completion of new green painted bike lanes and new landscaping beautification project along Andrews Avenue between Oakland Park Boulevard and Prospect Road.
Sunset Strip Ribbon Cutting was held on July 21, 2018 to celebrate the completion of wider sidewalks, two roundabouts and new bike lanes.
NW 44 Street Bike Lanes Ribbon Cutting was held on June 23, 2018 to celebrate the completion of new bike lanes along the corridor.
https://browardmpo.org/index.php/major-functions/complete-streets-initiative
Fort Lauderdale-Hollywood International Airport Construction Updates
Information on construction happening at Fort Lauderdale-Hollywood International Airport (FLL).
http://www.broward.org/Airport/About/Pages/Construction.aspx
Do you have another site with updates you would like to see listed here? Please contact us.
For More Information
Please contact Khyra Everette at everettek@browardmpo.org or (954) 876-0073 to learn more about the Broward MPO and what they are working on in your community.