Check Out the 2023 SSS Digital Program!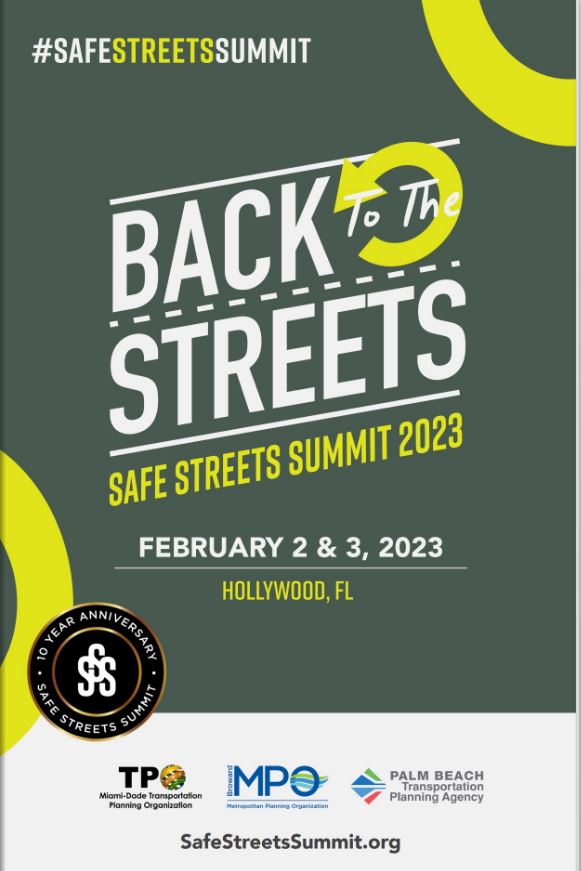 Take a Look at the Presentations from the 2023 SSS
The 2023 Safe Streets Summit took place on February 2-3, 2023. The theme for the 2023 Safe Streets Summit was "Back to the Streets", focusing on how we can embrace change for the better to reclaim streets for people, not just cars and improve safety, health, economic development and mobility for all.
Please find the presentations for the Thursday, February 2nd sessions below:
Training Break-Out Session #1
A. Prioiritizing Space for Bikes and Pedestrians in Urban Centers: Planning, Implementation, and Evaluation
B. People First! Community Collaborations Towards Safer Streets
C. Curb Control - Reclaiming Street Space for Better Mobility and Economic Development
Training Break-Out Session #2
D. Leveraging Big Data to Plan Safe, Equitable Streets
E. Don't Give Up at the Intersection! Design & Implementation of a Critical Component of Complete Streets Infrastructure
F. By the Numbers: Tools to Evaluate Walkability and Bikeability
In-Depth Training Workshops
Session #1: EXP Sponsored Workshop with the Dutch Cycling Embassy, "Building Complete Biking Networks."
Session #2: WSP Sponsored Workshop, "Safe and Resilient Streets: Designing the Streets of Tomorrow."
Please find the recordings and presentations for several of the Friday, February 3rd sessions below:
Opening Keynote Session: Neighborhoods and People First
Plenary Session 1: Taking Back the Streets: Leveraging Momentum Toward People-Centered Streets
Plenary Session 2: Complete Streets Are Livable Streets: Planning Beyond the Pavement
Plenary Session 3: Taking Action to the Streets: Implementing Effective and Sustainable Complete Streets Policies