In 2016, the Broward MPO won a nationwide competitive grant for over $11 million to design and construct five Complete Streets projects throughout Broward County.
Together with the cities of Fort Lauderdale, Lauderdale Lakes, Oakland Park, and Pompano Beach as well as Broward County and the Florida Department of Transportation (FDOT), the Broward MPO applied for Transportation Investment Generating Economic Recovery (TIGER) funds to fill in five critical gaps and extend the reach of the existing Broward Regional Complete Streets network to restore safe multimodal access to various community resources and destinations for vulnerable populations.
Broward's TIGER grant will construct 9.2 miles of safe, clearly delineated bicycle and pedestrian facilities in existing rights-of-way and will include innovative features such as internally illuminated reflective pavement markings (IIRPM) to improve visibility and safety for all users. The TIGER projects are part of the Broward MPO's Complete Streets program that has to date programmed more than $300 million in bicycle and pedestrian facilities to create safer, healthier streets for residents and visitors.
The Broward MPO would like to recognize the FDOT District IV Florida office, who agreed to manage all phases of implementation of the TIGER projects, as well as our local partners who each played a key role in the TIGER application process and provided substantial financial contributions that were essential to the application's success.
Below is a map of the planned projects; construction will begin Spring 2021.
TIGER Grant Story Map
Coming soon (Winter 2021)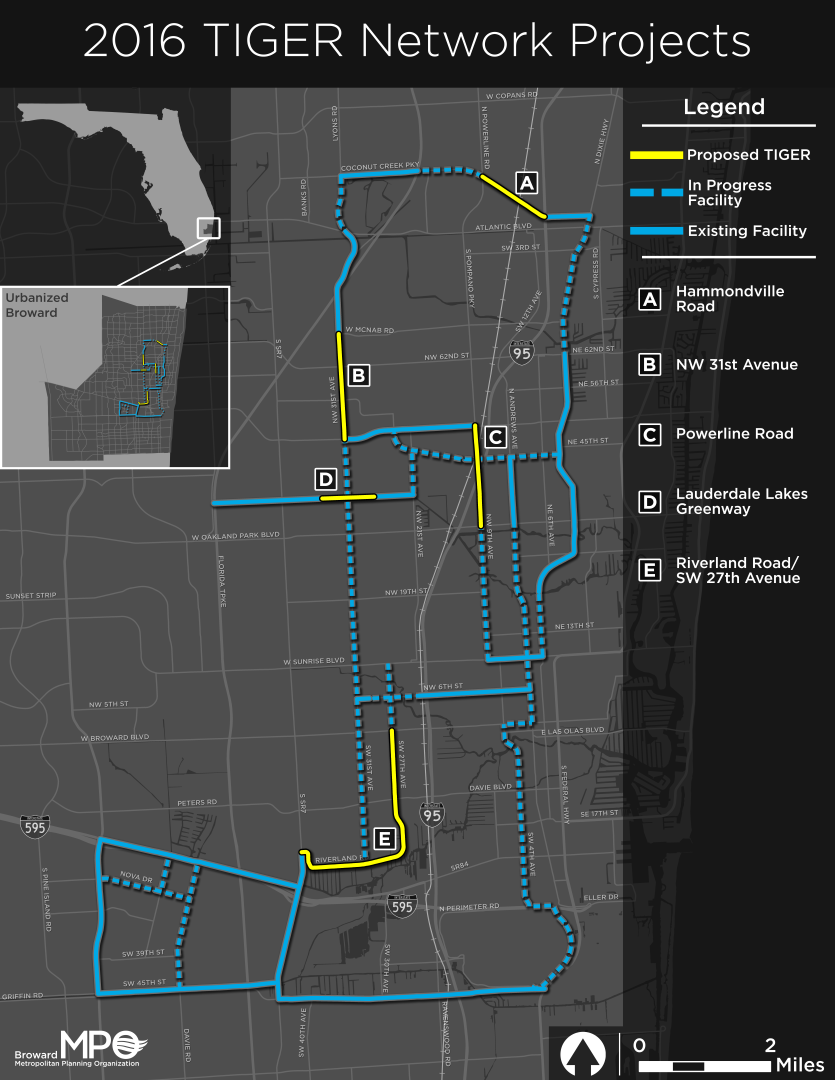 The TIGER Story
For More Information
Please contact Ricardo Gutierrez at gutierrezr@browardmpo.org or (954) 876-0044 to learn more about the Broward MPO and what they are working on in your community.