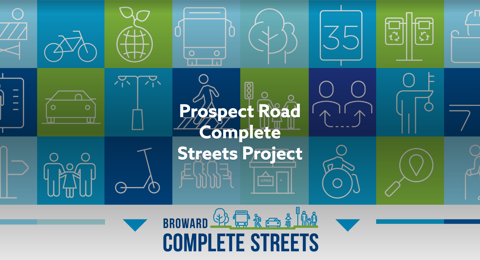 The Prospect Road Complete Streets Project in Broward will change the look and feel of Prospect Road from a car-centered roadway to one that serves users of all types and ages. This project begins in the City of Tamarac at Commercial Boulevard, continues through the Cities of Fort Lauderdale and Oakland Park, and ends at Dixie Highway in Oakland Park. This Complete Streets project includes several modes of transportation and elements that can greatly improve pedestrian, bicyclist, and motorist safety. In addition to safety, this project will improve the pedestrian and bicyclist's overall experience, create a welcoming street environment, and has the potential to revitalize the communities it serves.
CLICK HERE to check out the progression and learn all about this project.
For more on Mobility Program Projects, visit https://browardmpo.org/mobility-program.
For More Information
Please contact Fazal Qureshi at qureshif@browardmpo.org or (954) 876-0071 to learn more about the Broward MPO and what they are working on in your community.