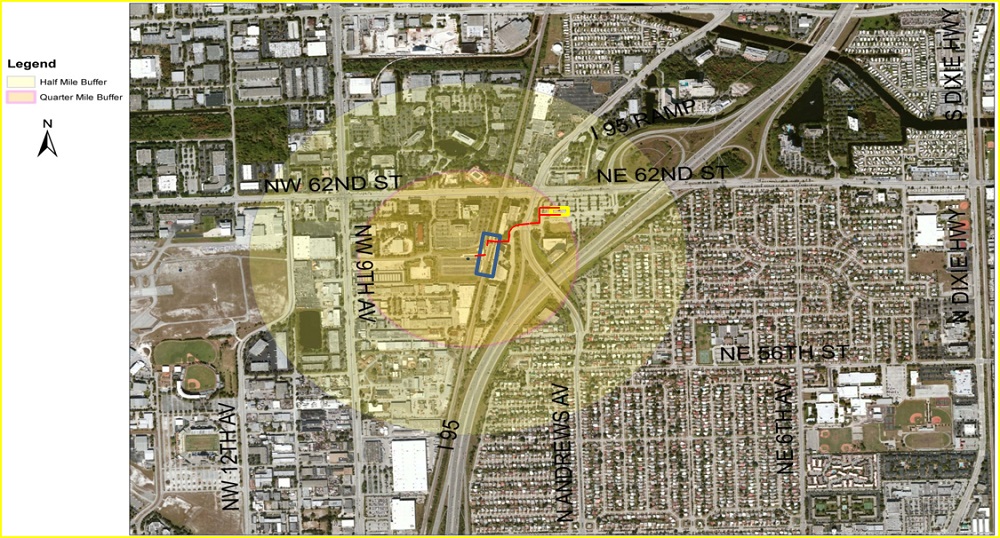 The Cypress Creek Mobility Hub is the second largest commercial district in Broward County, and home to a Tri-Rail Station, Tri-Rail shuttles, Broward County Transit bus service, and easy access to I-95. The Broward MPO, in partnership with the South Florida Regional Transportation Authority (SFRTA) who operate Tri-Rail, Florida Department of Transportation (FDOT), Broward County, City of Fort Lauderdale and City of Oakland Park are looking to identify infrastructure improvements and joint development opportunities in the area of the Cypress Creek Mobility Hub. The goal of this hub is to plan efficient transportation connections that will spur continued growth and development, enhance walkability, and promote the use of multiple modes of transportation within this Mobility Hub.
The Cypress Creek Mobility Hub Master Plan will identify privately funded development opportunities and infrastructure improvements within the mobility hub, including:
Development opportunities on publicly owned land
Improved access to the Tri-Rail station for all transportation modes
Enhanced pedestrian connections
Improved bus circulation and access
Improved connection to the Fort Lauderdale Executive Airport
Evaluation of enhanced Broward County Transit, Tri-Rail Shuttle service, and Express Buses
Evaluation of public parking needs within the study area.
Evaluation of Complete Streets implementation within the study area.
Traffic synchronization
Deliverables
Technical Memorandum #1- Existing Conditions
Technical Memorandum #2- Core Document for Future RFP/RFQ
Technical Memoradum #3- Development Strategies
Market Study / Economic Analysis Report
Streetscape Concepts
Related Projects
I-95 South of Commercial Blvd to North Cypress Creek Road Project Development & Environment Study
The Florida Department of Transportation (FDOT) is seeking infrastructure solutions for capacity and safety improvement along I-95, the interchanges at Commercial Boulevard and Cypress Creek Road and the adjacent intersections to both interchanges. The project area of influence along I-95 extends from just south of Prospect Road to just north of McNab Road for approximately 2 miles. The project includes an evaluation of the existing roadway and roadside to identify deficiencies or items needing improvement to current FDOT standards.
For more information, please visit the project website at www.95commercialtocypress.com
Uptown Urban Village Project
The City of Fort Lauderdale's Uptown Urban Village (Uptown) Project is a planning project derived from an August 2014 Urban Land Institute Technical Advisory Panel (TAP) report that identified strategies in creating a more livable urban village core for the Uptown area. Uptown is generally described as the area in and around the Fort Lauderdale Executive Airport, with the area's core flanked by C-14 canal and McNab Road to the north, 57th Street to the south, Powerline Road to the west, and I-95 to the east. The overall intent is to establish a planning framework to guide future growth in the area by amending the current land use designations to a single land use designation that supports a mix of uses and multi-modal development. The project goals also include the development of a form-based code to regulate the built form consistent with the new underlying land use thereby making the area a multi-modal, walkable, pedestrian-friendly, mixed-use, developed area.
For more information, please visit the project website at www.fortlauderdale.gov/departments/sustainable-development/urban-design-and-planning/planning-initiatives/uptown-urban-village-project
Resources and Documents
Agendas
May 2015- No Meeting
September 2015- No Meeting
Minutes
May 2015- No Meeting
September 2015- No Meeting