The Broward MPO and Florida Department of Transportation District 4 are partnering on a grant application to implement technology-based solutions to enhance mobility and improve multi-modal operations in Downtown Fort Lauderdale. The grant application is to the USDOT's Advanced Transportation and Congestion Management Technologies Deployment (ATCMTD) program. The grant application will be submitted to USDOT in early June, with results expected back by September 2018.
The Project
For traffic and the movement and goods in Downtown Fort Lauderdale, every day is different and so is our approach to the Advanced Transportation and Congestion Management Technologies Deployment (ATCMTD) Grant. By tying different technology and traffic coordination strategies together, we will enable optimization, reducing travel time uncertainty, and make getting to your destination easier and more reliable.
Grant Components Include:
Expansion of the fiber optic network and additional CCTV cameras
Enhanced traffic signal system technology/adaptive signal control
Installation of additional digital message signage
Creation of Wifi connected vehicle capability
Real time traffic information available to users through a smartphone app
The Effect
Installation of these technologies will allow operational modifications to the traffic system in Downtown Fort Lauderdale be made in response to real-time conditions. The project improvements will enhance traffic monitoring and congestion mitigation by providing a more reliable exchange of information to all users, thus providing a more reliable transportation system.
Local and Regional Benefits
The constant and instant collection and broadcast of traveler information allows for you (and the transportation system) to know what is coming your way, so you and the system can adapt to everyday situations. Ultimately, a better communication system means better transportation mobility for all users, including:
Reduced Delays
Improved 2-Way Communication
Planning for the Future of Autonomous and Connected Vehicles
The opportunity to deploy this technology across Broward County
Improved efficiency and return on investment in the transportation system
Letters of Support
Project Map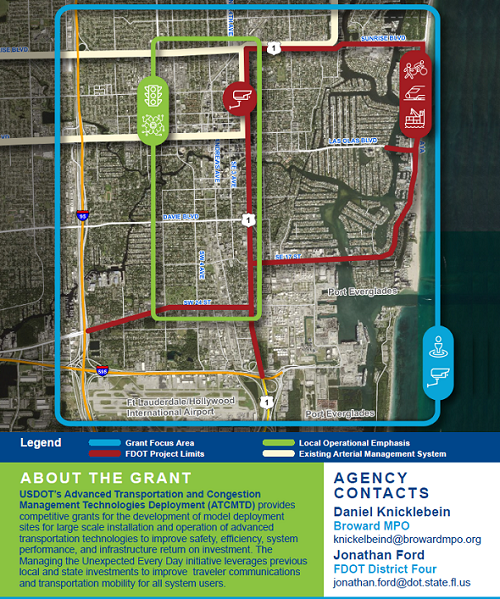 For More Information
Please contact Daniel Knickelbein at (954) 876-0053 or knickelbeind@browardmpo.org to learn more about the Broward MPO and what they are working on in your community.